Press
Nutty for Hazelnuts!
Crazy for Oregon's most valuable nut
Oregon enjoys the perfect climate for growing hazelnuts. Temperate ocean, mountain and river climates combine with rich volcanic soils to create prime orchard property — along the length of the Willamette Valley, from Roseburg into the state of Washington, encompass the growing community. While Oregon produces 99 percent of the U.S. hazelnut crop, the state represents just 5 percent of the world market. Yet, Oregon hazelnuts have become the global benchmark for in-shell excellence, recognized for their larger size and distinctive flavor.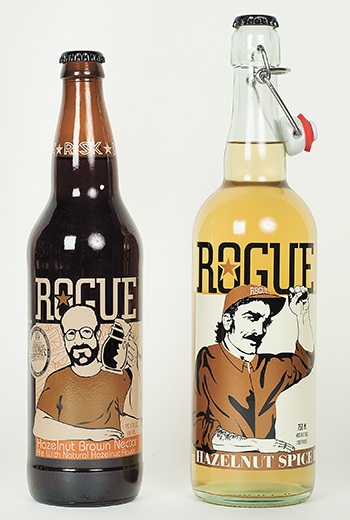 Rogue Hazelnut Brown Nectar Ale
A nutty twist to traditional European brown ale, Rogue Hazelnut Brown Nectar Ale is deep brown in color with a hazelnut aroma, a rich, nutty flavor and a smooth, malty finish. OWP Editor Hilary Berg says it's one of her favorite Oregon beers and recommends pairing it with a basket of hot roasted peanuts in the shell. Simply delicious. www.rogue.com
Rogue Hazelnut Spice Rum
Handcrafted using 100-percent real cane sugar and fresh toasted hazelnuts — grown by Kirk Family Filberts, located near the Rogue Farm in Independence — Rogue Hazelnut Spice Rum is ocean-aged in Rogue Dead Guy Whiskey barrels after distilling. Sweet aromas of hazelnuts and brown sugar greet the nose, while a sweet blend of vanilla, cinnamon and clove in the mouth set the stage for an oaky, vanilla and bourbon-like finish. www.rogue.com
Avellana Creamery Hazelnut Vegan Cheese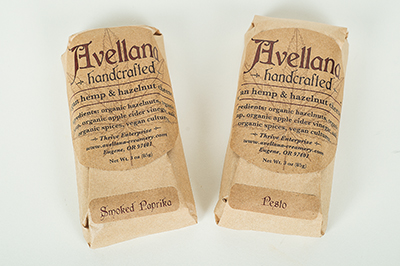 Even if you enjoy traditional cheese, Susana Romatz and Marika Banyacski produce a vegan version you must try. Made in Eugene and created with organic hazelnuts and hemp seeds grown in the Pacific Northwest, Avellana Creamery cheese is handcrafted from nut and seed milk. It's creamy, slightly nutty and ridiculously delicious. Flavors include: Italian Herb, Berbere African Spice, Curry, Smoked Paprika, Pesto and Currant. www.avellana-creamery.com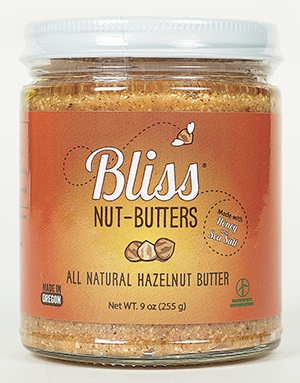 Bliss Hazelnut Butter
To create her hazelnut butter, owner Daniell Bliss roasts, grinds and blends Northwest hazelnuts with "My Local Honey," sea salt and a hint of sunflower oil for smooth spreading. The combination of sweet and salty is heavenly, but seriously addictive — you've been warned. www.blissnutbutters.com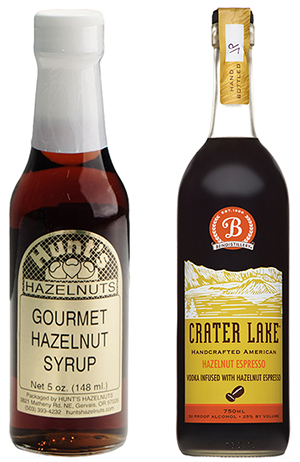 Hunt's Hazelnut Syrup
From the Willamette Valley near Gervais, Bruce and Phyllis Hunt farm more than 28 acres of hazelnuts. Besides their best-sellers, the nuts themselves, the couple offers a variety of products, including Hunt's Hazelnut Syrup. Try the liquid gold on waffles, ice cream, acorn squash or drizzle over popcorn, transforming the mundane into mmmmarvelous. www.huntshazelnuts.com
Bendistillery Crater Lake Hazelnut Espresso Vodka
A perfect balance of coffee, hazelnut and vodka with a touch of real cane sugar, Bendistillery Crater Lake Hazelnut Espresso Vodka is rich but not overly sweet. Mix with coffee, cream and chocolate in both drinks and desserts. Find fun cocktail recipes online (website below), such as the Ski Lift: Combine 2 ounces Hazelnut Espresso Vodka, 1 ounce brandy and 6 ounces hot chocolate; top with whipped cream and chocolate shavings. www.bendistillery.com